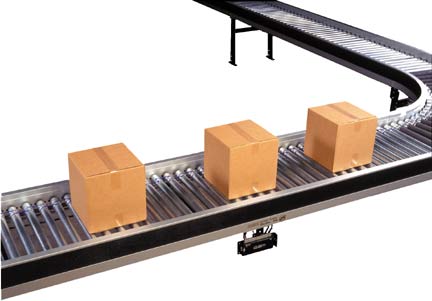 System Overview
The Qcon-24 conveying system is the ideal system for unit and package handling. It provides an extremely safe, modular, quiet and virtually maintenance free means of moving product within your facility.
Basic Specifications
Rated for 100lb per zone

Up to 220 Feet Per Minute

Operation Modes: Singulation, Train (slug), Normal Transport available on request

Bi-directional Rollers: rollers can be reversed locally or via remote device.

Incline and decline available in a variety of lengths

Standard BF widths: 14", 15", 16", 17", 22", 24", 28", 30"
Theory
The Qcon-24 system is made up of modules. A module is defined as straights, curves, right angle transfers, merges and diverts. Programmable logic controllers control the modules. The modules themselves are further divided into "zones." Product can accumulate within each zone if needed. The zones contain photoelectric sensors and reflectors. When the photoelectric beams are interrupted, this signals to the PLC that product is present in that zone. Qcon-24 can run in singulate mode, or train mode. Normal transport mode is available if specified. In singulate mode, a product will not move into a zone until that zone is clear. In train (slug) mode, a product will move into a zone as the previous product is moving out of that zone.
The Qcon-24 also has the ability to divert product off of the main flow path. The Qcon-24 can merge product into a main flow path and can also transfer product off of the main flow to the right or left or both at a right angle. In all cases, the product has the option to continue down the main flow path bypassing the diverts and transfers.
IPS created the Qcon-24 with safety, modularity, quick low cost installation and low maintenance costs in mind. This "intelligent" system is the most practical system in the industry for moving totes, product assembly, packages and all unit-handling applications.

| | |
| --- | --- |
| Name | |
| Title | |
| Company | |
| Address | |
| E-mail | |
| Phone | |